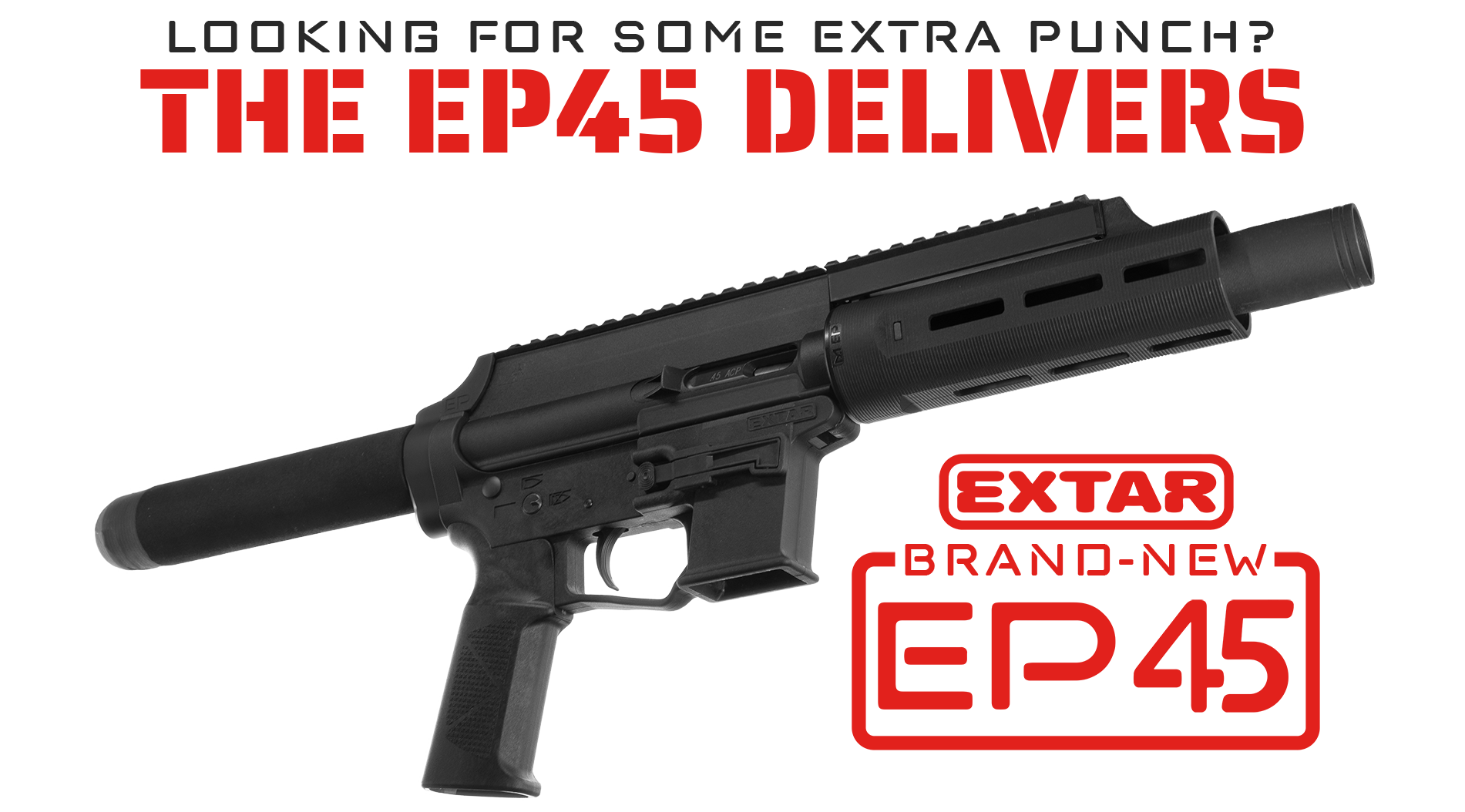 At long last, meet the Extar EP45 Pistol in .45 ACP. This big-bore PDW is made to provide security to the savvy American consumer. The EP45 is an excellent choice for either home defense or good times at the range with features like the Extar Dynamic Feed Control system, Glock 21 magazine compatibility, our Proprietary Recoil Damping System, familiar AR-15 controls, an M-LOK handguard, and the new Extar Pistol Protective Cover. With the Extar EP45, shoot the behemoth of a round that started the phrase "stopping power" like you never have before.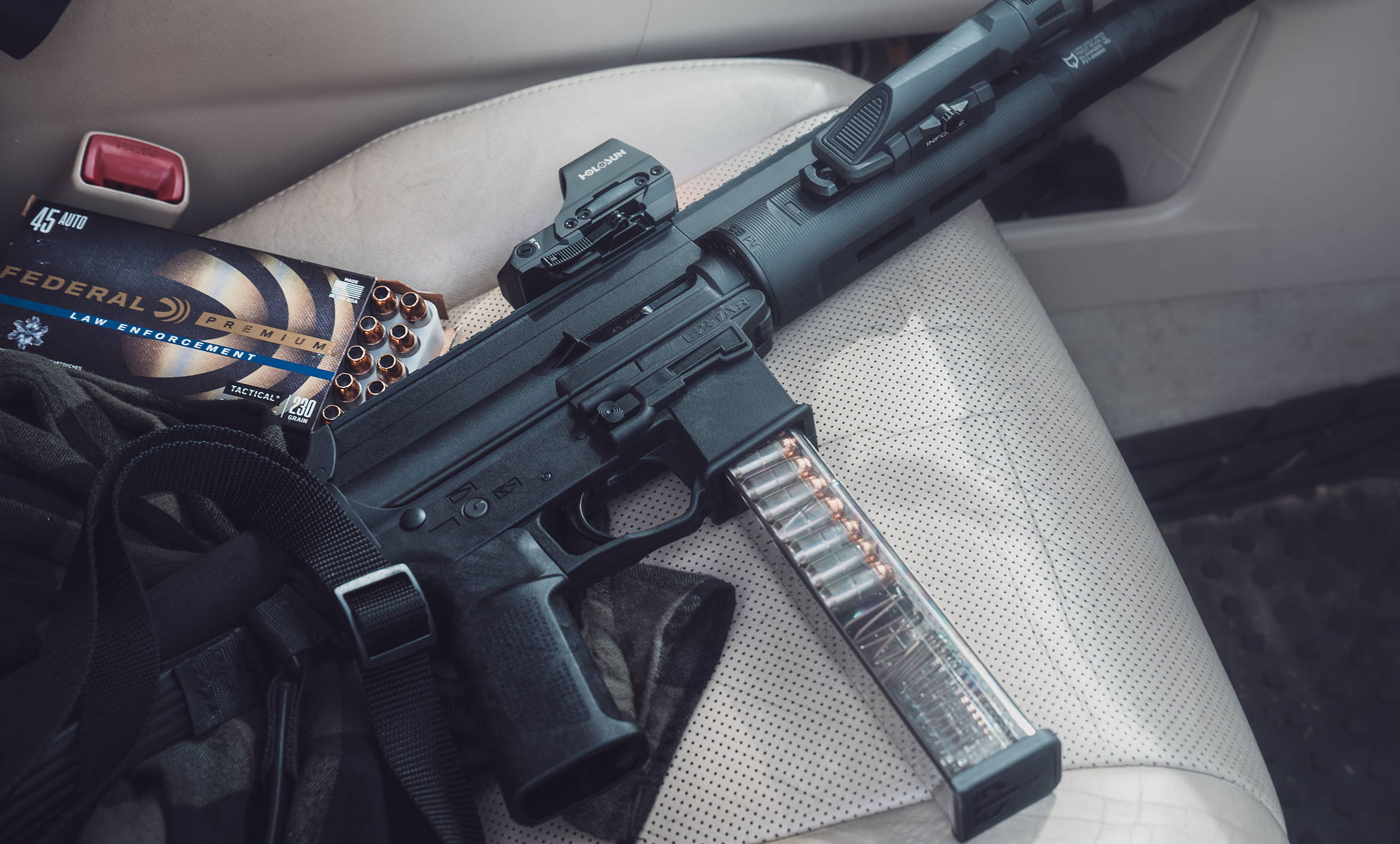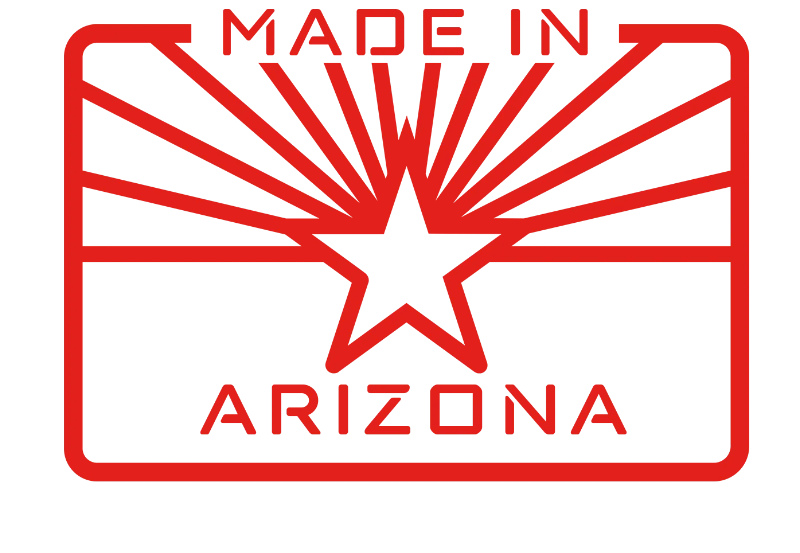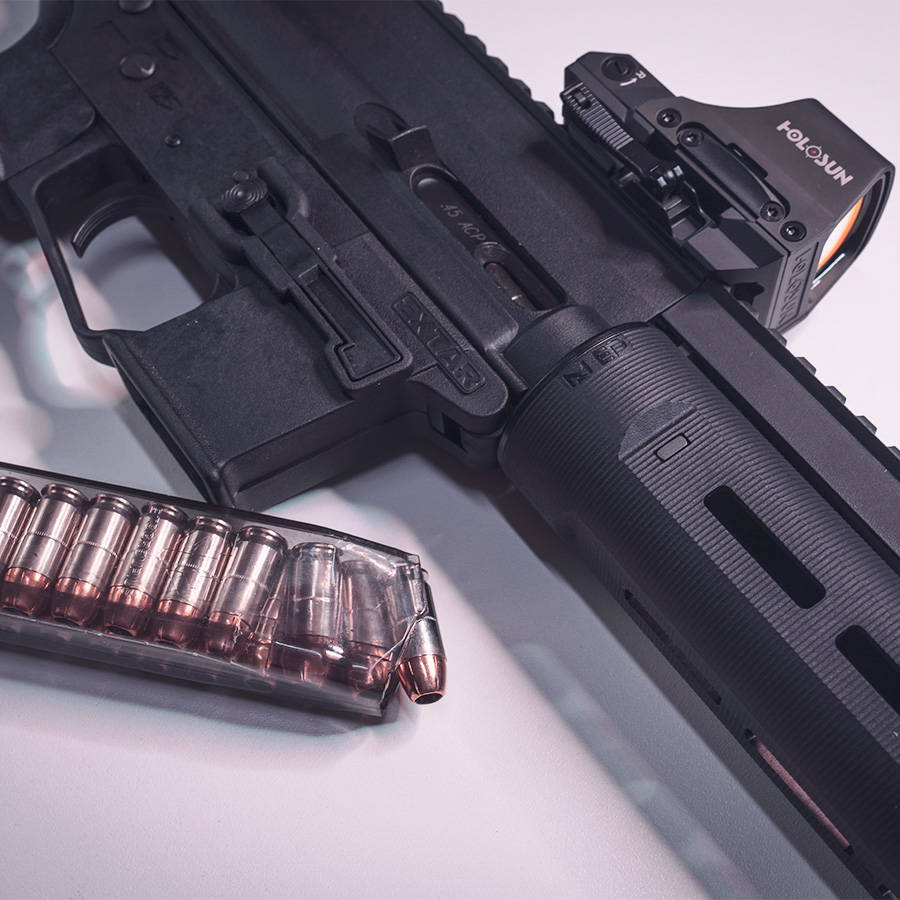 PATENT-PENDING DYNAMIC FEED CONTROL
A long-known struggle for many firearms chambered in .45 ACP has been with hollow points. The issue comes from a shorter overall loaded length and lack of a rounded nose to help in feeding.
Extar USA's Dynamic Feed Control System tackles this issue with a unique system that can run most hollow-point and unconventional projectile designs; turning the EP45 from a range gun into the perfect home or vehicle defense tool but taking advantage of the 45's naturally efficient energy transfer.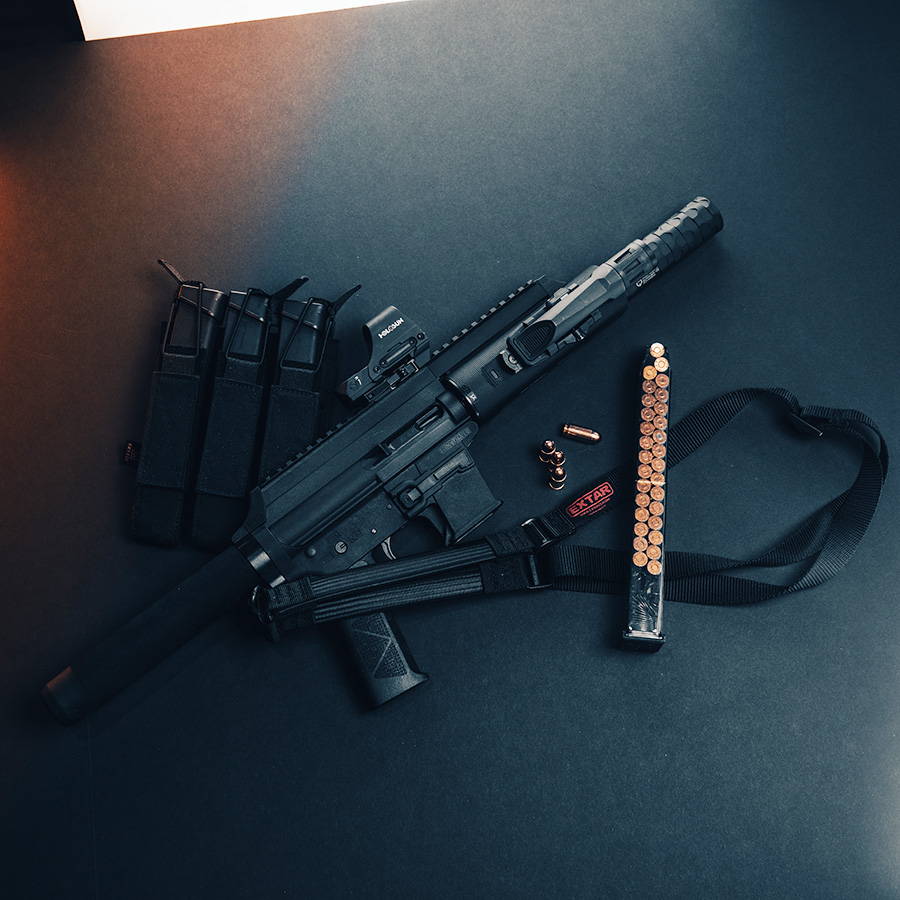 Made by shooters and for shooters, the Extar EP45 shares all of the comforts of the familiar Extar EP9 to create a tool that can be picked up and used competently by shooters of nearly any skill level. The 6.5" barrel is threaded and comes with our Blast Director muzzle device; surrounding the barrel is our M-LOK handguard with three mounting slots at the three, six, and nine positions; it comes with our Extar PDW Pistol Grip, single-stage steel fire control group, and a full-length top rail for the optics of your choice.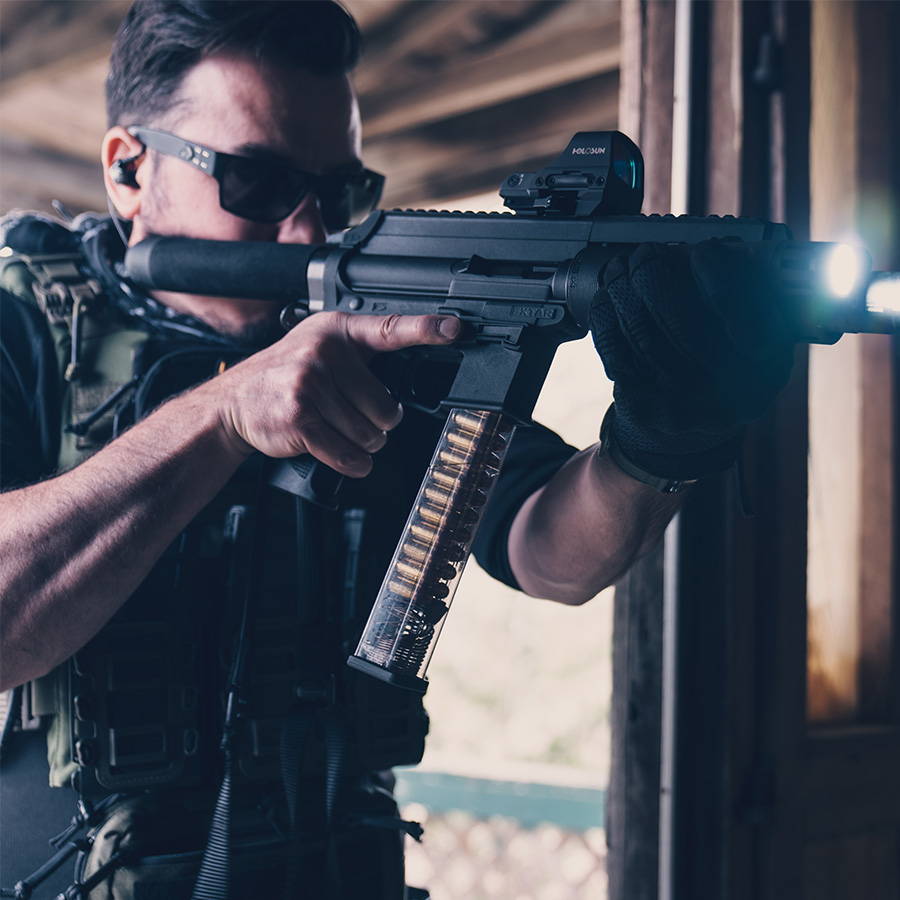 A LIGHTWEIGHT & COMPACT PLATFORM
Weighing only 4.5 pounds and having an overall length of under 24″, the EP45 is a compact platform that can easily be handled in tight spaces. The soft recoil makes the EP45 easy to control and keep on target.
The integral sling point and innovative EP Pistol Protective Cover on the buffer tube combine to make the EP45 extremely easy to use for fast target acquisition and rapid firing.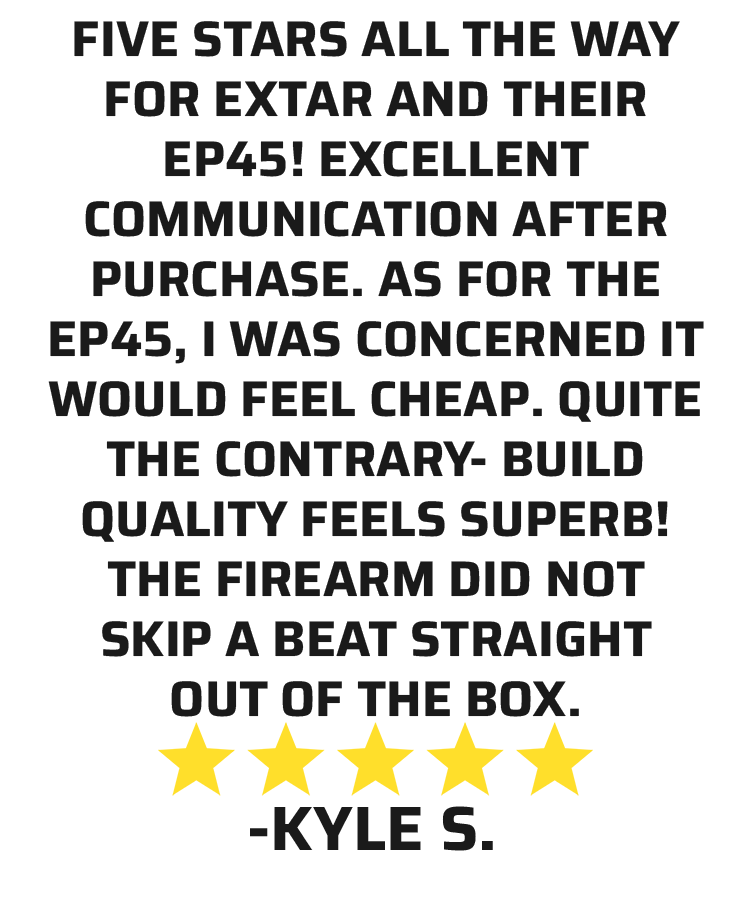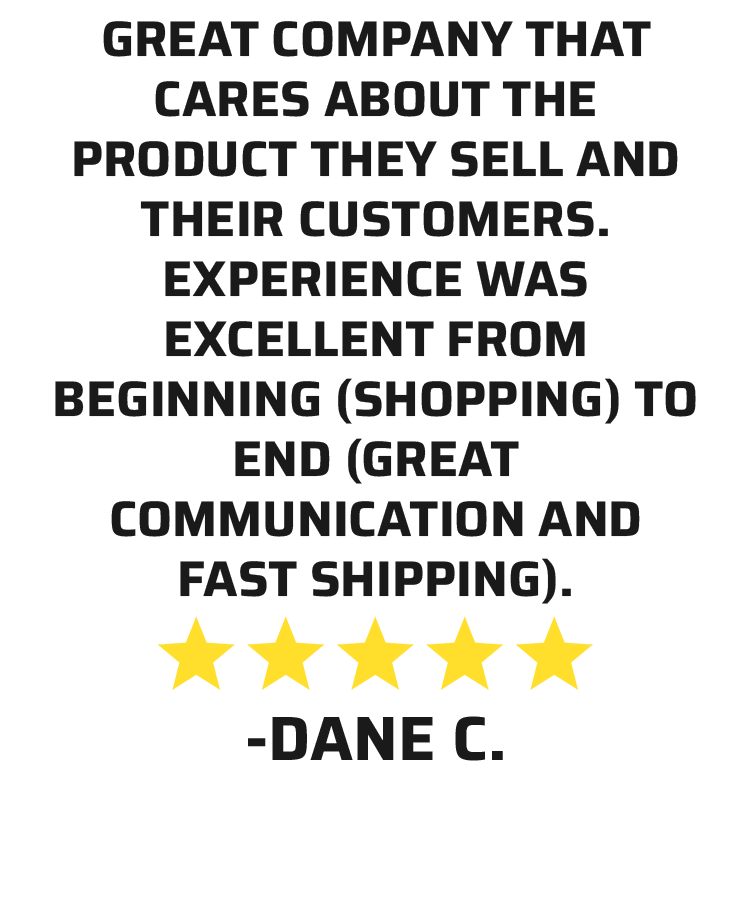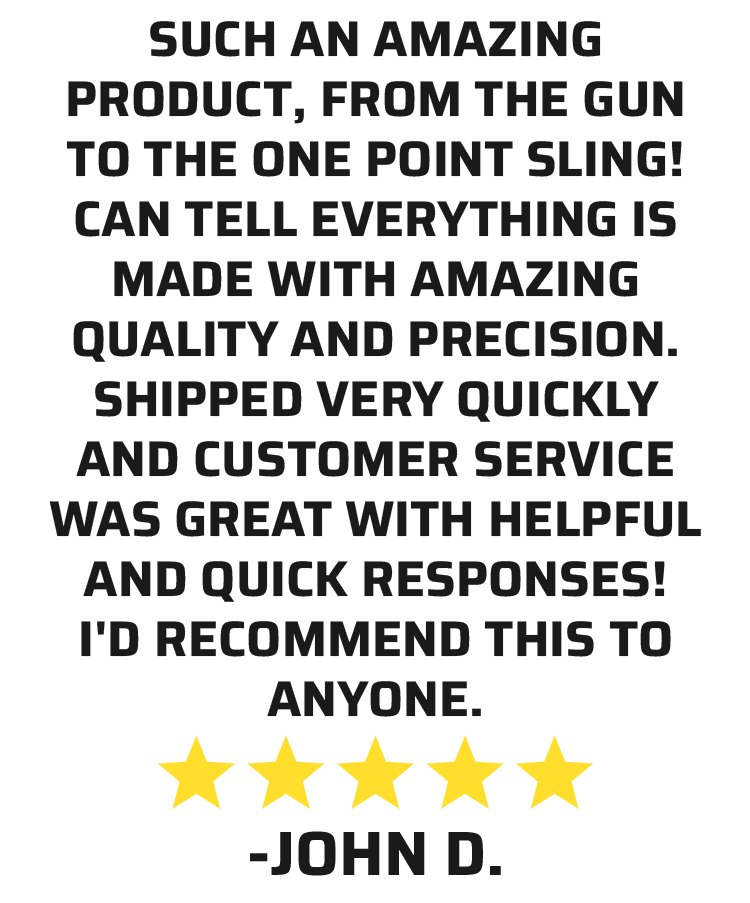 EXTAR EP45 SPECIFICATIONS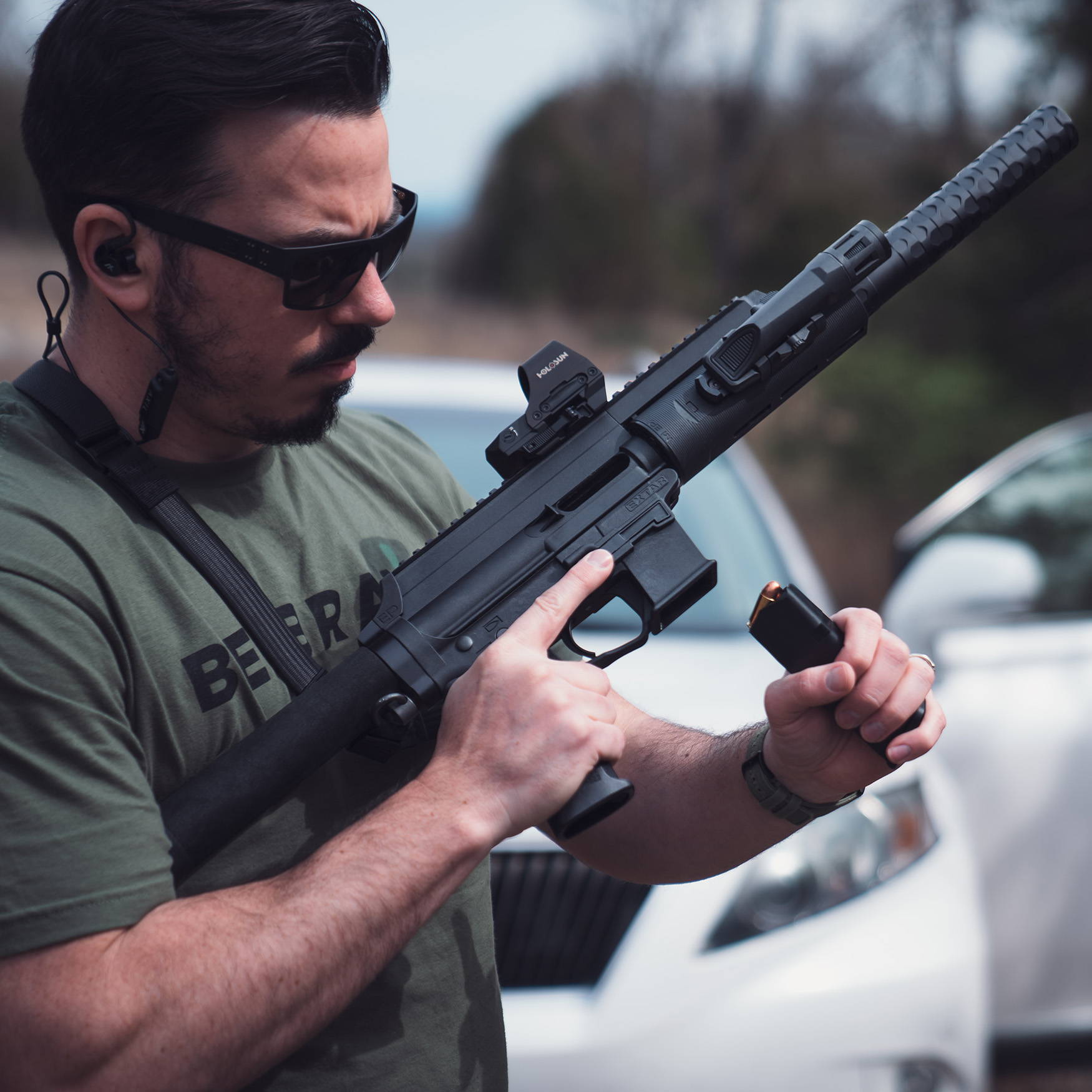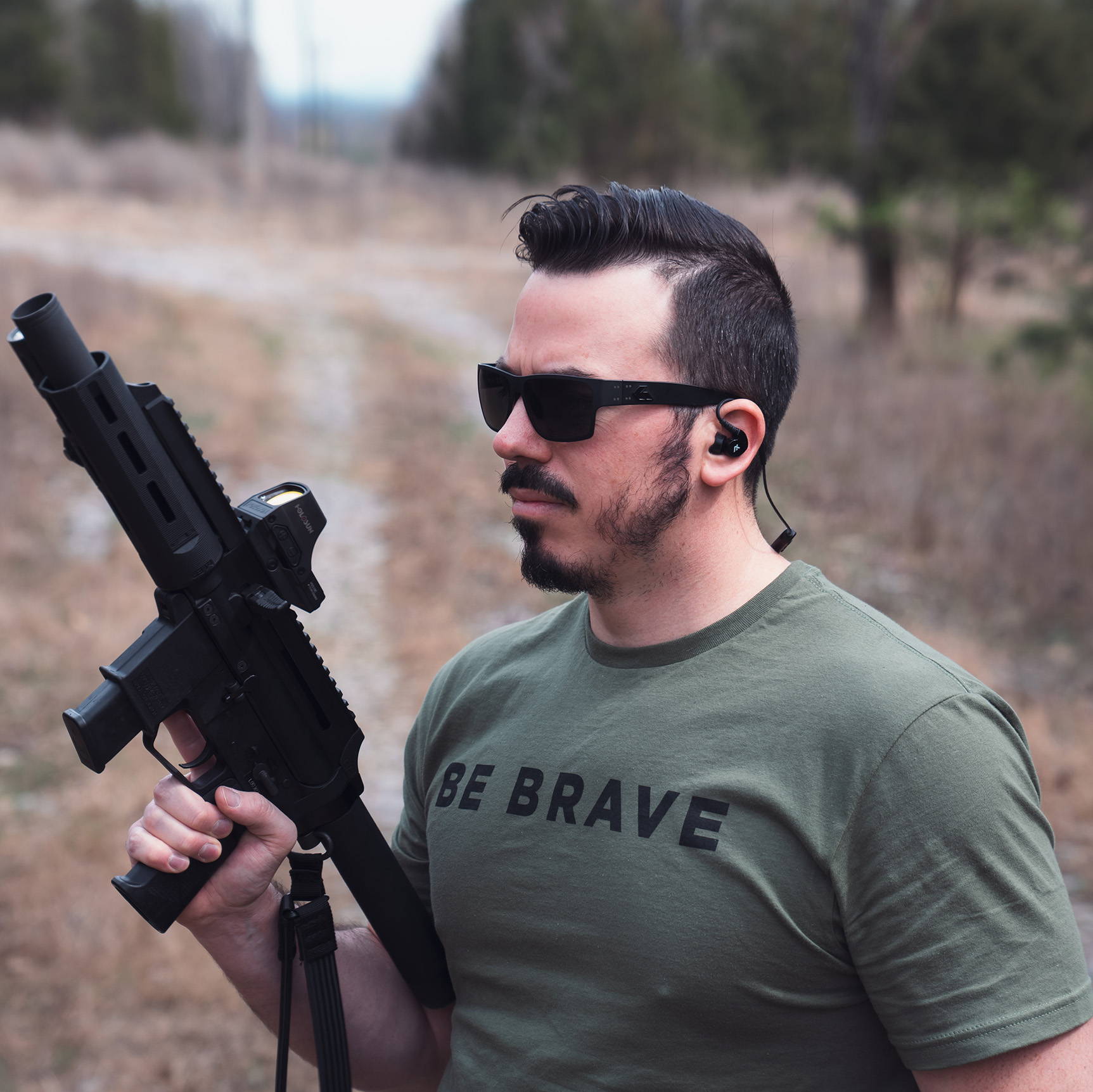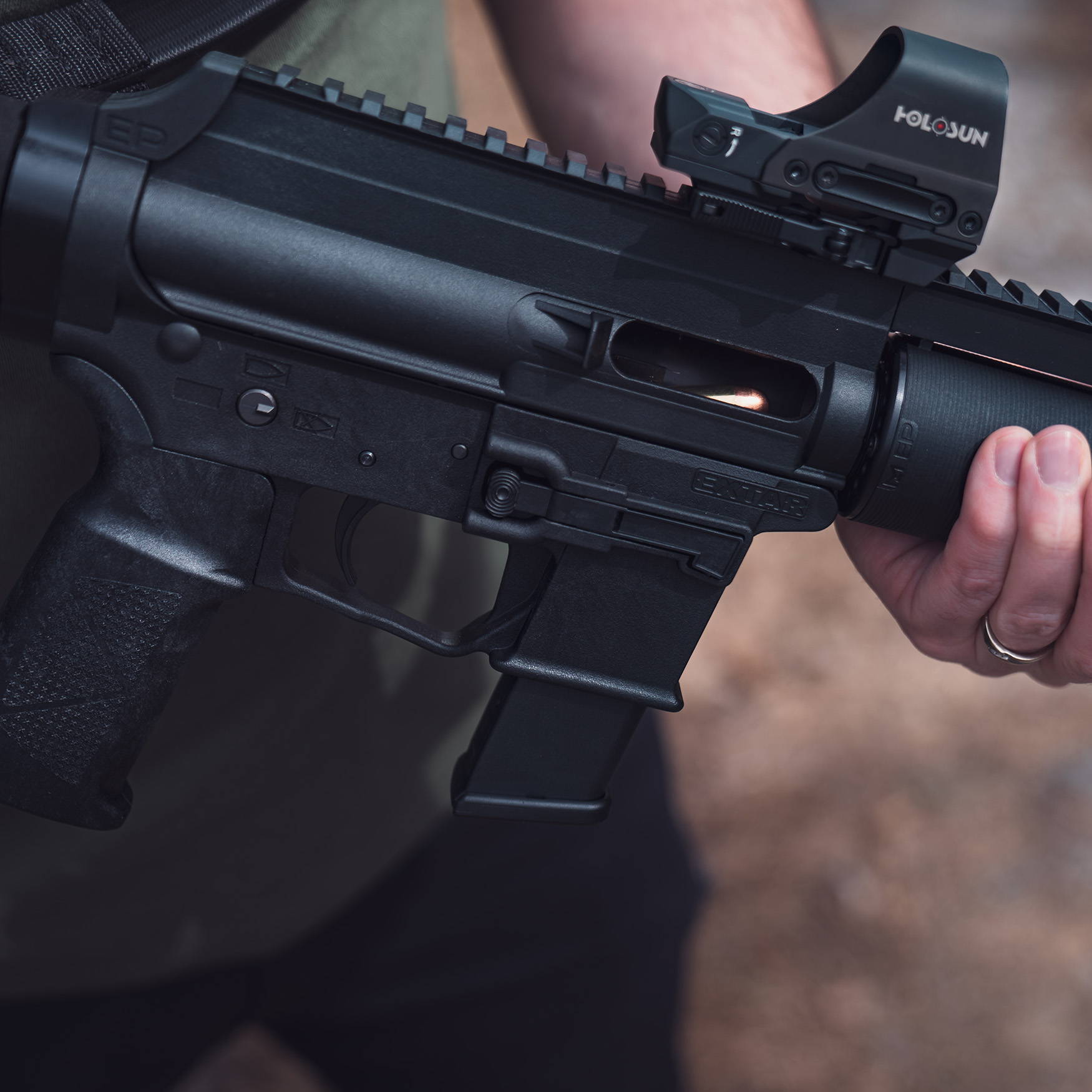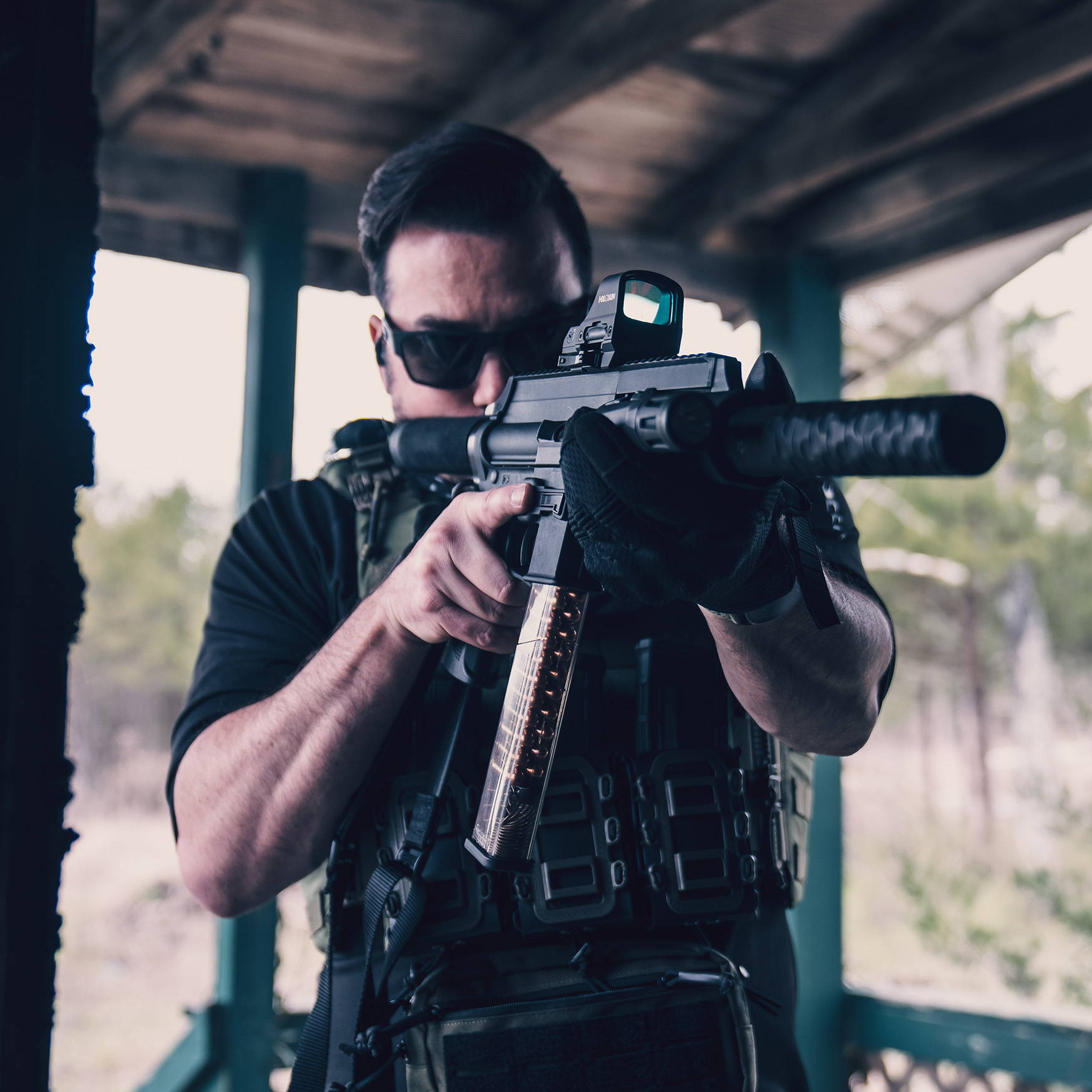 Capacity: 10rd or 13rd Included | Up to 30rd Aftermarket

Magazine: Glock G21 Pattern Magazines
Grip:

Extar PDW Grip | AR-15 Grip Compatible

Bolt & Barrel Finish: BLACKNITRIDE+

Trigger Action: Single-Stage

Charging Handle: Left-Side Charging | Reciprocating

Handguard: 3 M-LOK® Slots on 3, 6, and 9

Sights: Optics Ready with Full-Length Top Rail

Brace: Compatible with Extar Stabilizer or SB Tactical AR-15 Push-On Braces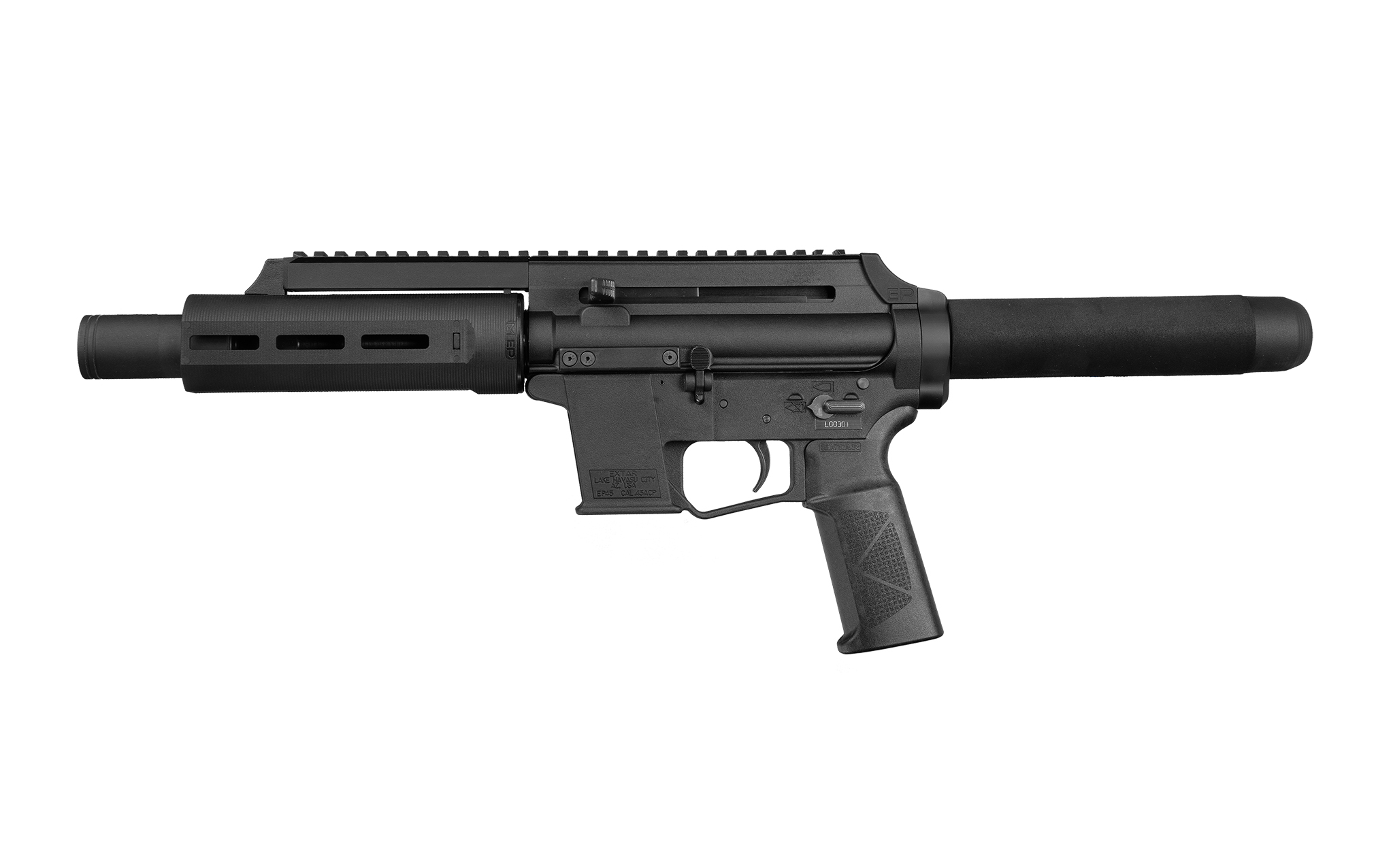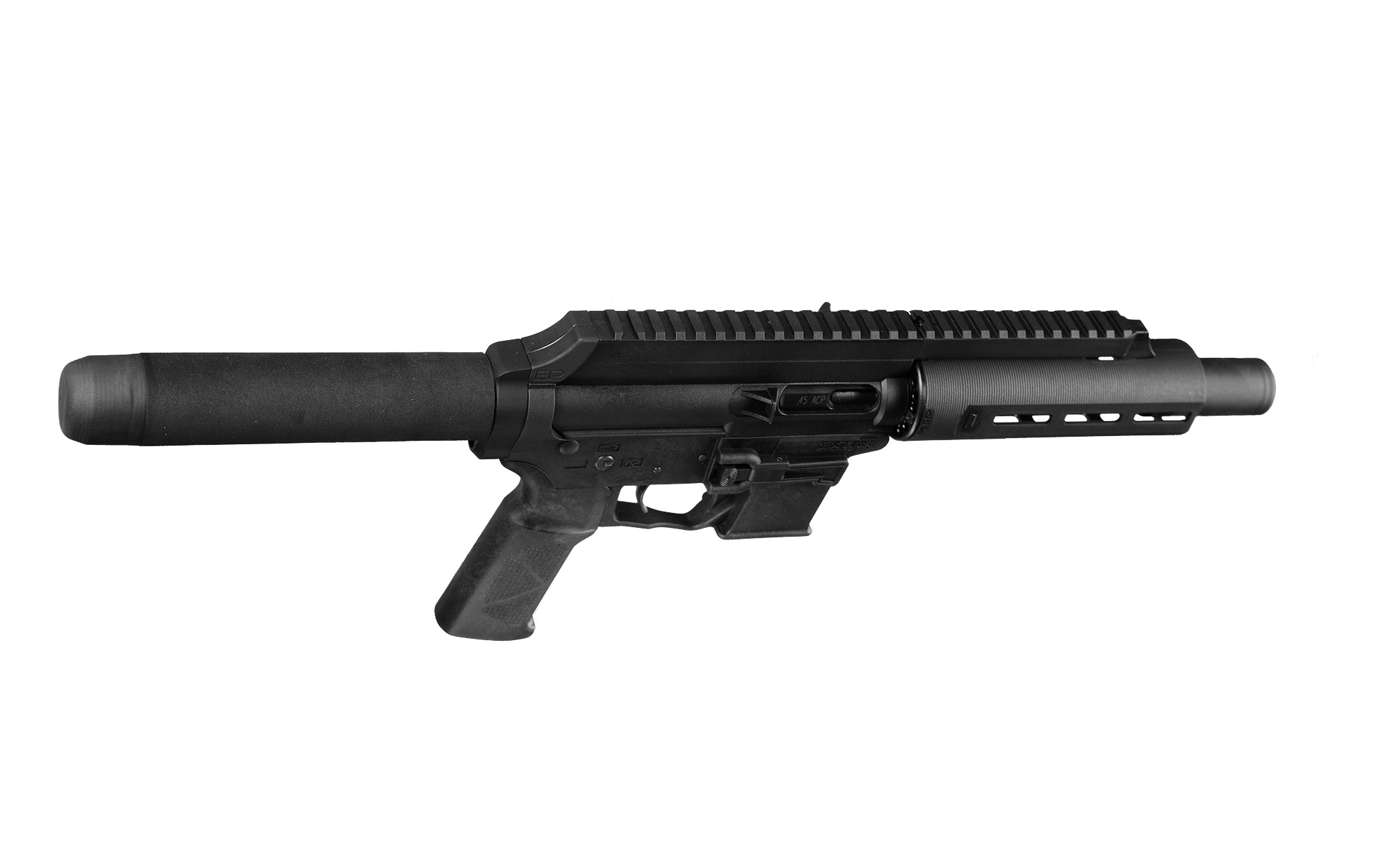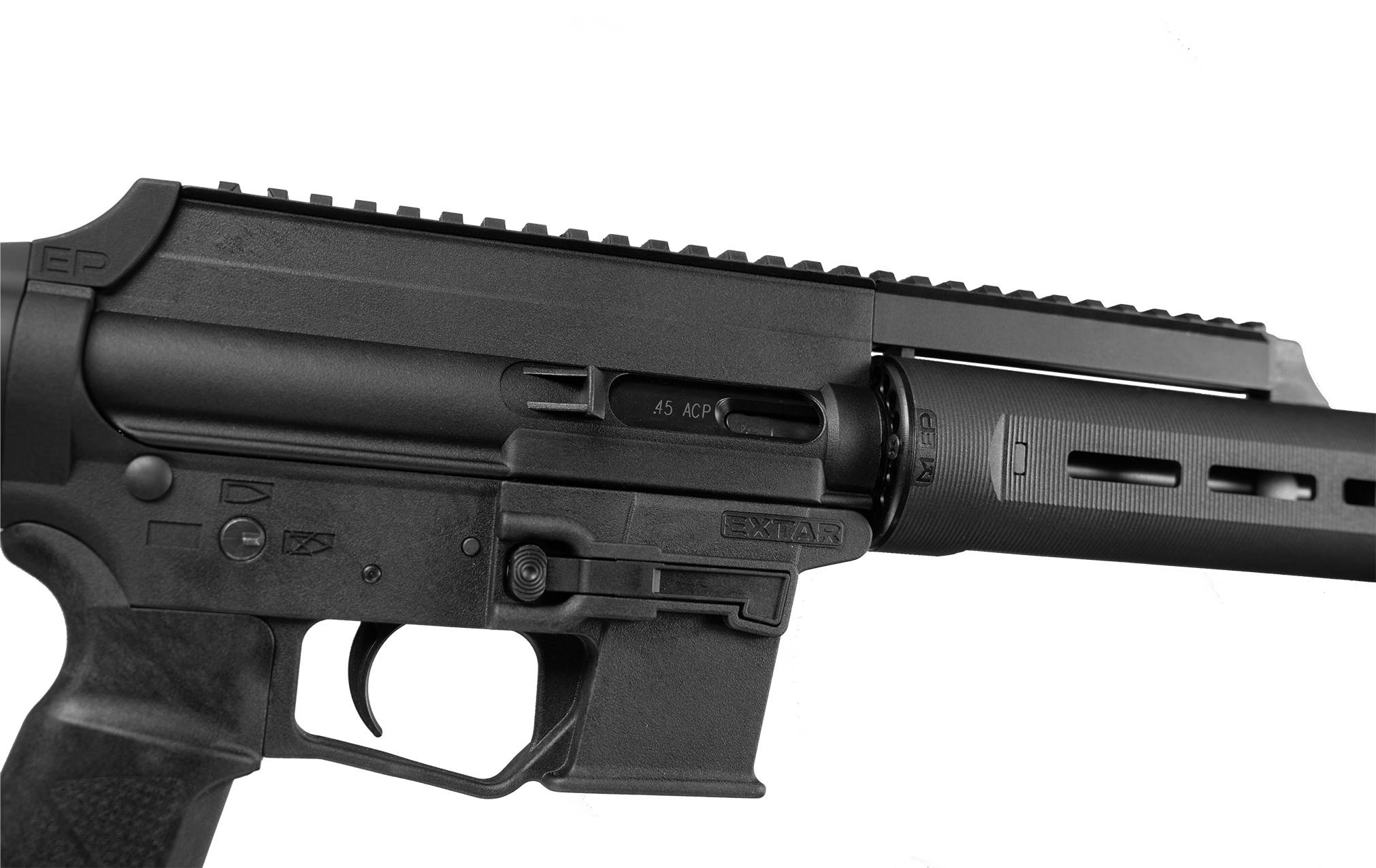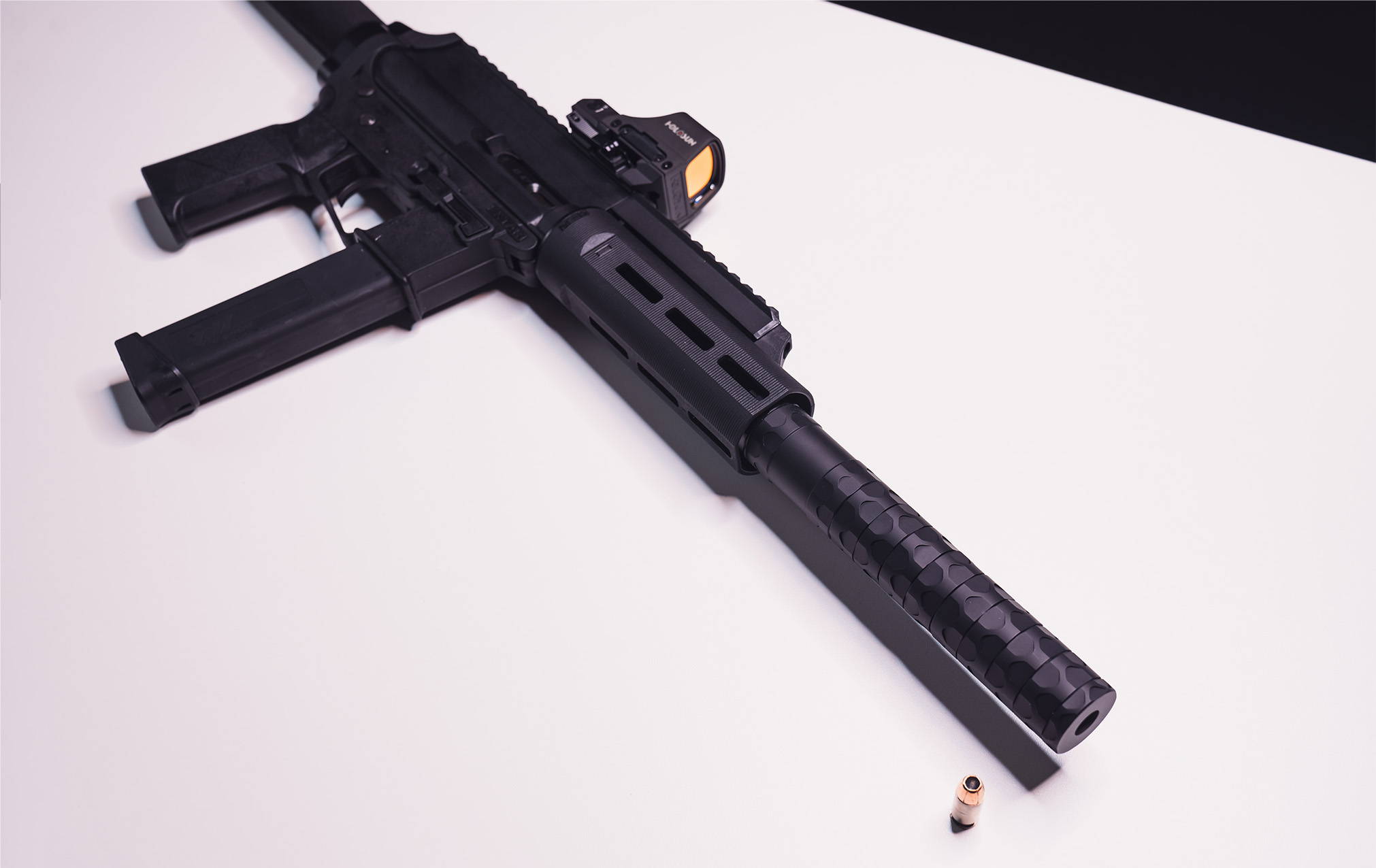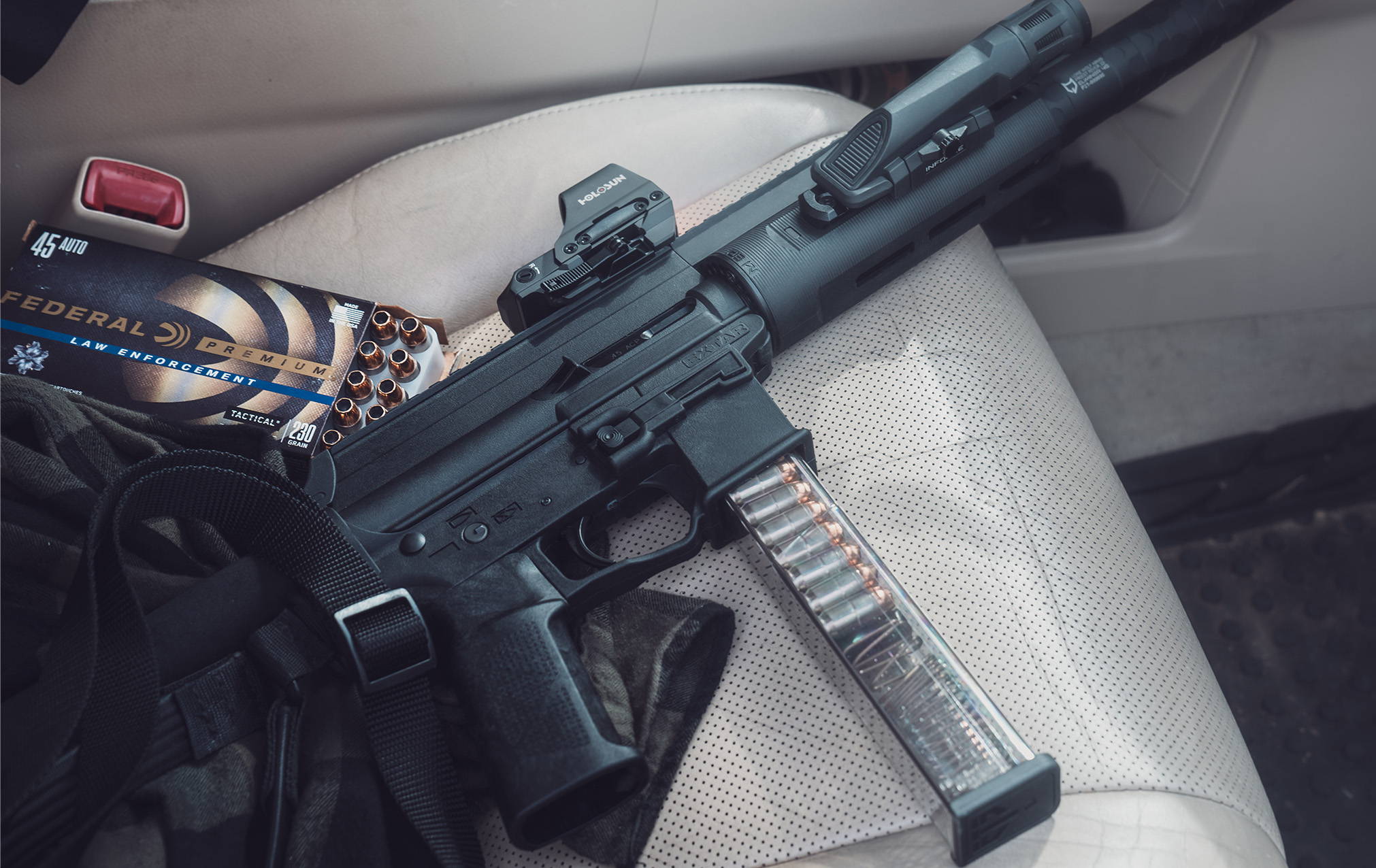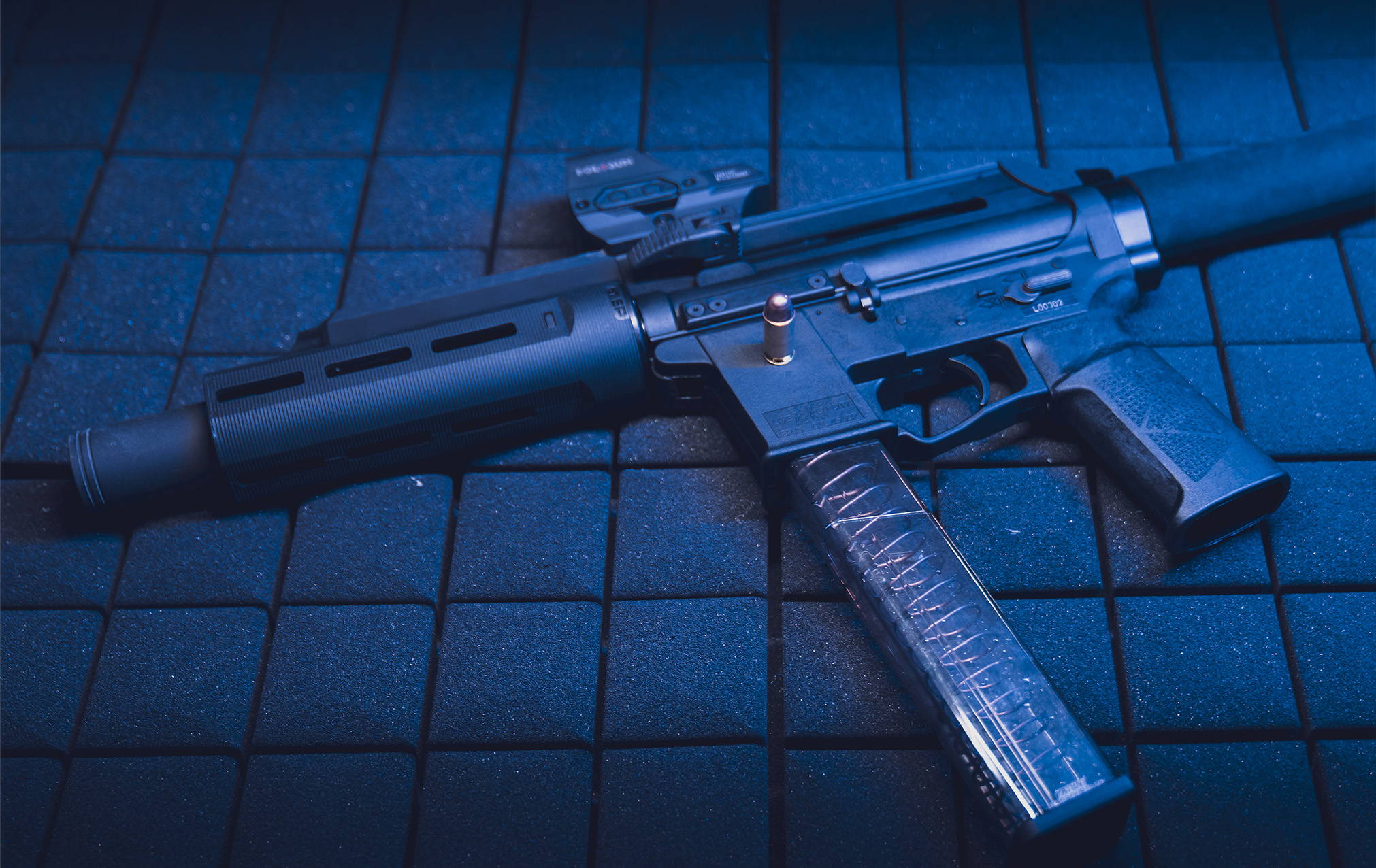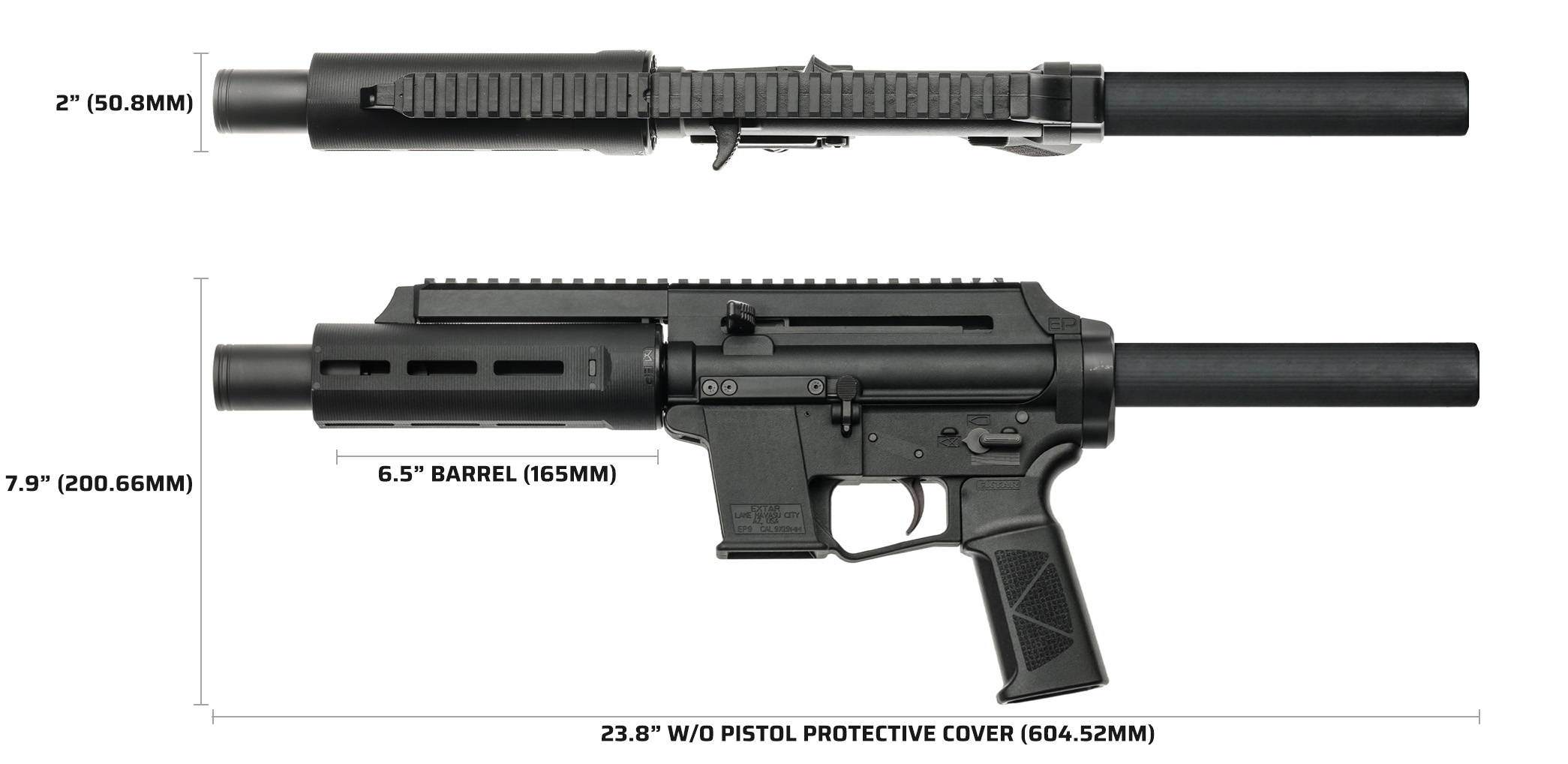 Where Can I Buy the EP45?
Currently, we only sell directly to the customer in order to provide the best prices possible. At Checkout, you will select a Federally licensed firearms dealer for your order to ship to.
How Do I Order a Firearm Online?
Ordering firearms online is a fairly simple process, given how regulated these items are. On our site, you will automatically be prompted to choose a licensed firearm dealer at checkout for your order to be shipped to. Some dealers may appear as "preferred" and are labeled with a gold star. With these dealers, you simply select them at checkout, and your order will be shipped to them for you to pick up and complete a background check for transfer to you. For all other dealers on our map, it is up to you to call them first to check that they will do a transfer for you, then you will need to have them send a signed copy of their Federal Firearms License (FFL) to us. We will help you with this process and send instructions after your order.
What Barrel Lengths are Available?
At launch, we only have the EP45 with a 6.5" barrel available.
Can the EP45 Reliably Fire Hollow-Point Ammunition?
Yes. Our biggest accomplishment with the EP45 in our eyes is our Patent-Pending Dynamic Feed system. The EP45 was designed with the use of hollow-point ammunition in mind.
Can I Use a Brace With the EP45?
Yes, the EP45 comes with our protective cover over the receiver extension (buffer tube), but that can be removed. The EP45 is compatible with Extar Stabilizer or SB Tactical AR-15 Push-On Braces.
No, the EP45 as shipped is a pistol because it does not have a stock or shouldering device. If one wishes to make their EP45 an SBR, we do offer a stock adapter.
What Magazines Can Be Used With the EP45?
The EP45 is designed to accept Glock G21, G41, or G30 magazines. For best function, we recommend using Glock brand magazines or the ETS 30-round G21 magazine (which we sell here). Other brands of .45 ACP Glock-fit magazines may function, but are not at a reliability and consistency of quality that we feel comfortable recommending.
What Parts on the EP45 Can Be Substituted with Aftermarket Components?
The EP45 accepts any 5/8-24" threaded muzzle accessories, some SB Tactical Stabilizing Braces, AR pistol grips, and some AR fire control groups (functionality not guaranteed). We do not recommend any substitution of factory parts beyond these.
How Can I Use a Sling With the EP45?
The EP45 has an integrated point for a Quick Disconnect "QD" sling attachment, at the rear of the receiver. Additional QD attachment points can be attached to the picatinny-style rails if desired. Some cheaply made QD swivels are inconsistent sizes, so we recommend our EP Single Point Sling or the MagPul MAG540 QD swivel for a guaranteed fit.